What You Must Know About Unsecured Loans
At some point, every one of us will have to go through obtaining a form financing of some type. It may be something as simple as applying for a credit card. Still, the process can be a little complicated if we don't understand the type of debt we're incurring, especially when we're talking about unsecured debts in the form of loans.
This information is why we must understand what unsecured loans are and what they actually can do for you.
What Are Unsecured Loans?
First and foremost, unsecured loans are the type of loans that don't need any collateral or security deposit to be received after an application.
In these types of loans, the borrower promises to pay back the loan they took from the lender without worrying about having their assets taken from them in a nonpayment event.
This decision is because lenders don't have the rights to those assets since they were used to back up the loan as collateral.
Some of the types of unsecured loans available are the following:
Personal loan
Student loan
Credit cards
Retail financing programs
Membership programs
Most of these types of financing can be found at banks, credit unions, and other lenders. The purpose of these loans is left to the borrower's discretion, meaning you're the one in charge of deciding what to do with the loan once you have it.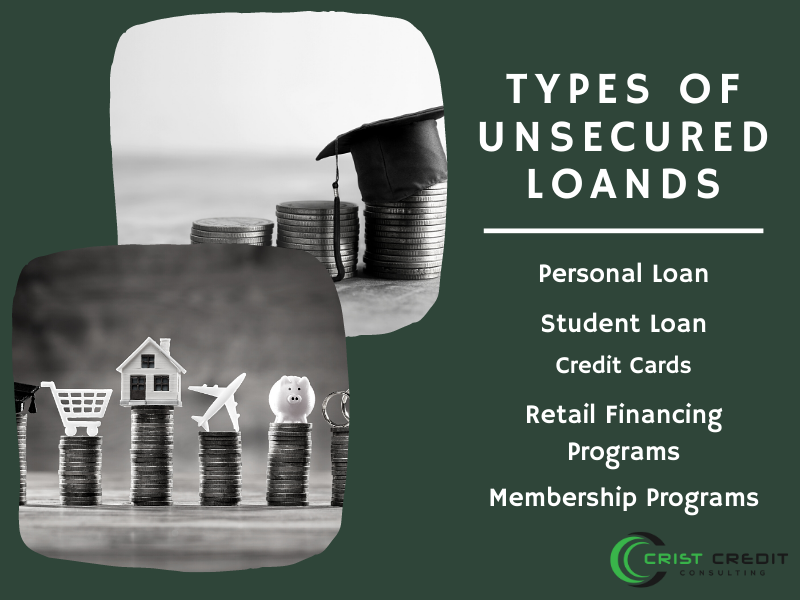 A thing to take notice of is that most people don't think credit is a form of unsecured loan, but it is since you don't put any collateral or assets before being approved.
Also, the money you spend using credit is money borrowed from your credit line, so keep this in mind when you decide to use it.
How Do You Get an Unsecured Loan?
At the time of the application, lenders begin the process by doing a credit history check to see your borrowing record. They also check if you have paid off any loans successfully to their full amount, which is an enormous plus on your credit score.
Lenders also check your income to see if it's high enough to be able to repay the loans you're looking to obtain. They do this to make sure the monthly payment doesn't exceed your monthly income.
The Pros and Cons of an Unsecured Loan
The most significant advantage you can have when applying for a loan of this kind is that your assets are not at risk when you miss a payment, but your credit score may be damaged as a result of those missing payments.
The most significant disadvantage of this type of loan is that you're likely to pay higher interest rates and be subjected to less flexible terms because of the absence of collateral.
The higher rates are because the lender is risk lending you money with no assets being used to borrow against it.
The Thing to Remember
An unsecured loan has many benefits by simply removing the need to put up collateral to obtain the loan. It is quite handy when you want to go through a speedy financial process, but you must also keep in mind that interest rates are a lot higher than they would be if you did put collateral upfront.
It is up to you to do the proper amount of research when looking for a lender that provides unsecured loans and makes sure that you can pay it all back.