Do NOT Pay Collections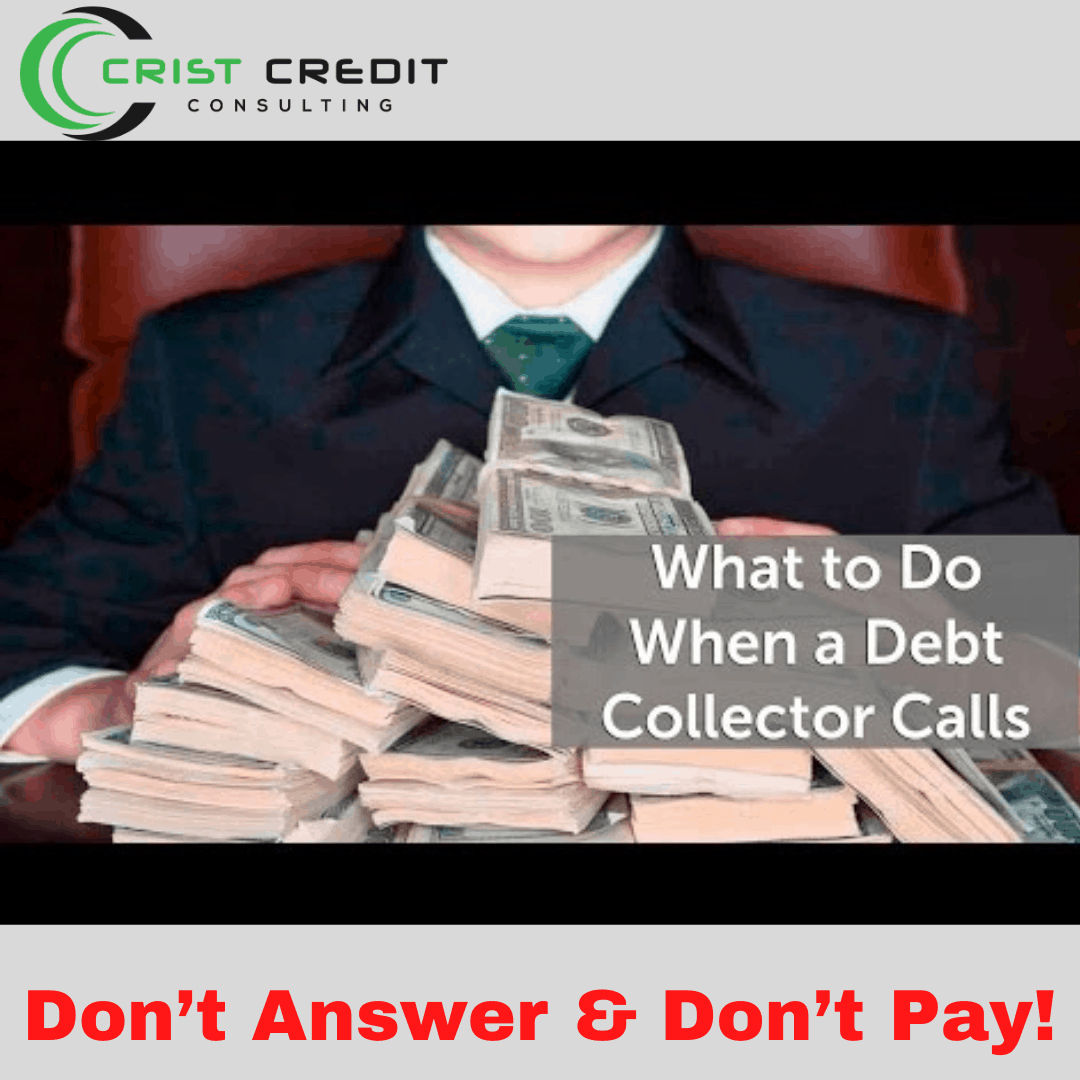 I have completed thousands of credit consultations. In about 70% of these cases, my client has either paid a collection account in full without sending a Pay for Delete letter in conjunction or is currently on some sort of repayment plan. When they tell me this, all I can do is shake my head. My only recommendation is either to keep paying the collection (since they have already admitted guilt to this debt) or tell them: "Let's work on removing the collection account you've ALREADY PAID OFF." The proper thought and question here is… If I paid a collection account in full and it's still showing up on my credit report, why did I spend my hard-earned money in the first place?
EXACTLY!
You Should Not Do It. Here Are The Reasons:
1. All collection companies are trying to do is take your money. For example, let's say you owe Verizon Wireless money. After 6 months of delinquency, your account changes to charge off status meaning at the end of the year the finance department of Verizon reports this account as a loss. This is reported to the credit bureaus. Then, they sell off your account to the highest bidder, a collection agency. The collection agency pays a portion of the total amount owed to own that debt. They usually pay pennies on the dollar. Then, they call and harass you to collect the money. For example, let's say the total balance owed is $200. The collection company paid $20 for that total balance. If they collect the full $200 from you, they have made a HUGE profit of $180 for that one account. This is how collection companies stay in business.
2. In order for a collection agency to collect from you or go after you legally, you first have to admit to that debt over the phone or by letter. This is the reason their phone lines are recorded, and the call rep needs to read you a mini-Miranda before speaking with you. They have you on tape confirming your identity. Legally, you did not sign a contract with ABC collection agency. You did not accept services from the collection company. You originally signed up for phone services with Verizon, remember? You do not have a contract with the collection company, so who says you owe them! Unless you admit to the debt over the phone, they can only assume you do not owe that debt.
3. Statute of limitations is the time frame that a collection agency has legally to come after you full force. The statute of limitations is 5 years in most states. If you are still getting letters or calls after 5 years and you pay it or get put on a repayment plan, then that account will restart the timeline! In addition, it will count negatively against you because you admitted to guilt by paying the collection account. As a result, your credit score will go down.
4. A debt collector CANNOT add their own fees and interest to the original balance to inflate the debt to get more money out of you. If the original contract between the debtor and the original creditor does not allow for collection fees and interest to the original balance, then this is a violation. For you to find out or for them to prove that what they are doing is legal, they must present you with the original contract, which they likely do not have. Ask the debtor for it and demand removal from the bureaus.
In conclusion, if you pay a collection account it is a bad move on your part because it will remain on your credit report, waste your money, and reduce your credit score. If you do not do anything, it is bad because the negative trade-line is sitting on your credit report affecting your score.
If you want to spend money with the intent of removing the collection account, you should follow my training step by step. Do not get overwhelmed by paying these accounts and change your life for the better!
If you're ready to start removing collections the right way, without paying the full debt, then schedule a call with me and let's fix your credit!