Business Credit Card Road Map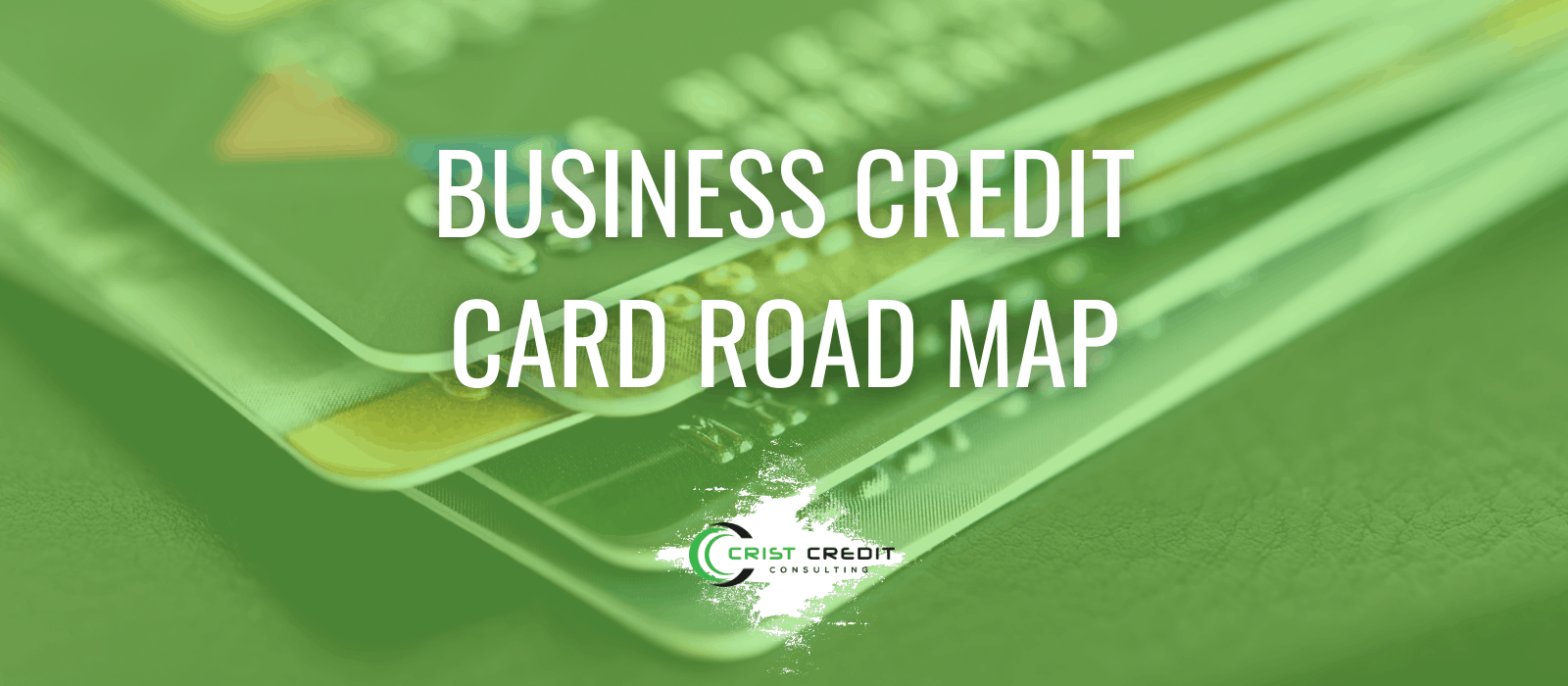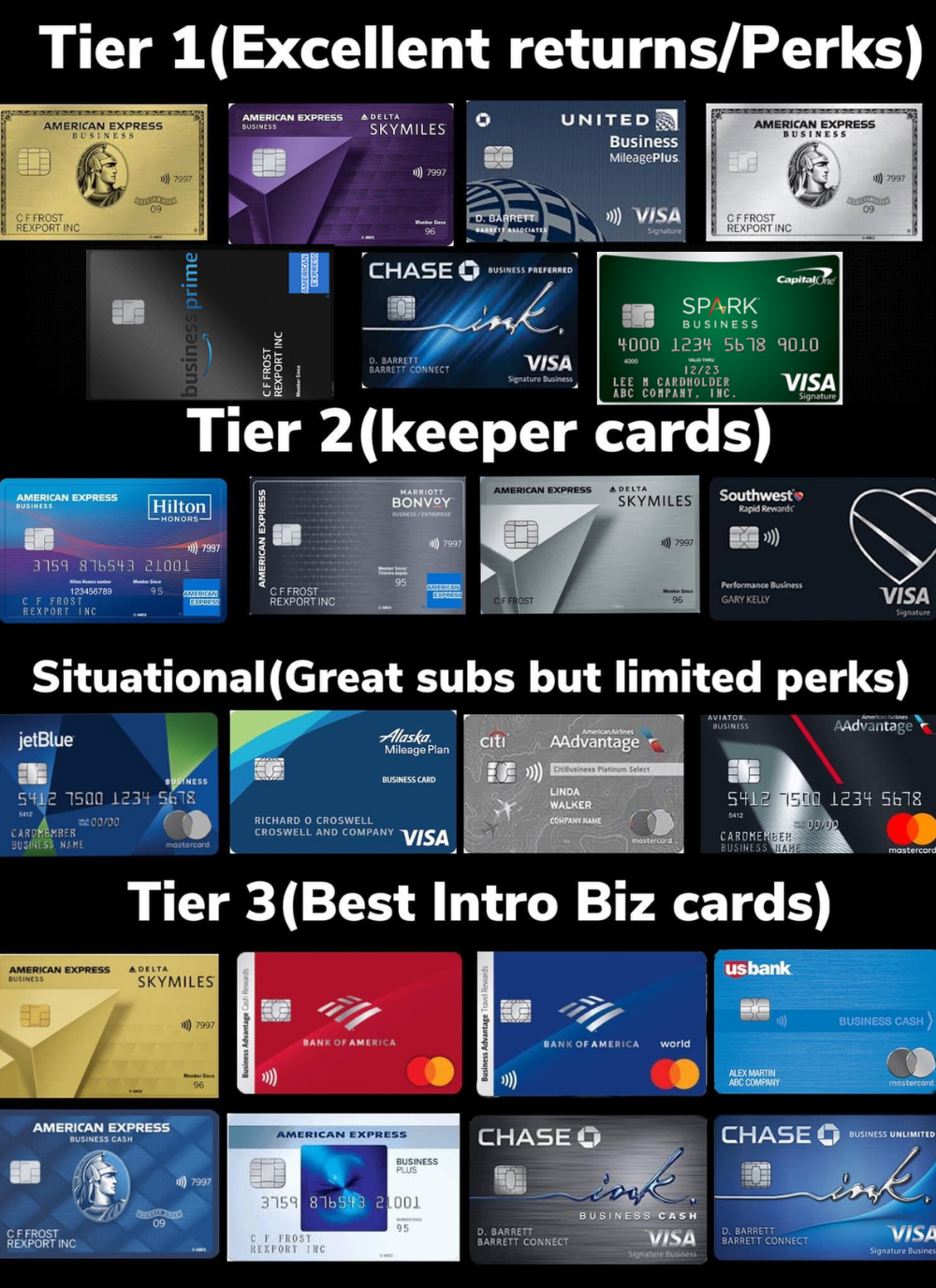 Do you have itch for a new business credit card sign up bonus?
Don't want to jeopardize your Chase 5/24 status?
Don't want it to report to your personal credit?
Don't want a hard inquiry on your personal credit? (AMEX Rule Applies)
Well today is your lucky day!!!
Business Credit Cards are a powerful tool for any business owner. They remove your personal credit from your business and give you amazing rewards and perks for all your travel and cash back needs! It's important to separate personal credit from our businesses so that our personal scores are not affected by the sometimes very large purchases made in our businesses.
I have put together this chart to help guide you on the business credit card roadmap that you can follow to maximize the bang for your buck on business credit rewards!
It is divided into 4 tiers:
Tier 3
Excellent keeper cards that are fairly easy to get approved for and maximize points earned. This is your baseline of business credit. Start with 2-3 of these cards that fit your beginning business needs then work your way into more rewarding cards.
Tier 2.5 (Conditional Cards)
Cards that have a great Sign Up Bonus (SUB), but are hard to justify keeping for year 2 once the Annual Fee (AF) kicks in. Hit the SUB then dump it before the AF. It is a good idea to keep a running spreadsheet of your business credit cards notating Opening Date, Annual Fee, Sign Up Bonus, and Date to Consider Closing.
Tier 2
Great keeper cards that provide value even after year 1. Most of these cards have great perks that set them apart from the two beginner tiers. They also have reasonable AFs which actually pay for themselves when used correctly to maximize points and use the perks that come along with the AF.
Tier 1
These cards bring a ton of value when used correctly to maximize their point values and perks. Note that some of these cards (not all) tend to have higher annual fees due to their huge offered value so pay attention to the AF before applying. General rule of thumb is to only hold 1-2 of these cards at a time so you're not paying $1000s in Annual Fees unless you're equipped to handle and offset these fees.
This is my personal preference and rankings for Business Credit Cards. They are in no particular order, but the 4 Tiers define the level of Rewards offered by each card. There really is no science behind what is the BEST card to get. It really depends on your business goals and needs related to the point values and sign up bonuses associated with the card at the time of applying.
Tier 1:
AMEX Business Gold
AMEX Delta Skymiles Reserve Business
Chase United Business MileagePlus VISA Signature
AMEX Business Platinum
AMEX Amazon Business Prime
Chase Ink Business Preferred
Capitol One Spark Business
Tier 2:
AMEX Hilton Honors Business
AMEX Marriott Bonvoy Business
AMEX Delta Skymiles Platinum Business
Chase Southwest Rapid Rewards Performance Business
Tier 2.5 (Situational):
Barclays JetBlue Business
Bank of America Alaska Business
CitiBusiness AAdvantage Platinum Select World Mastercard
Barclays AAdvantage Aviator Business
Tier 3:
AMEX Delta Skymiles Gold Business
Bank of America Business Cash Rewards
Bank of America Travel Rewards Business
US Bank Business Cash
AMEX Blue Business Cash
AMEX Blue Business Plus
Chase Ink Business Cash
Chase Ink Business Unlimited
If you are receiving mail offers from credit card companies, you are essentially pre-approved for the card and you should call in to the bank with your information ready to go for the application. Your chances of being approved with this type of offer are very high!
I have developed a Business Credit Coaching Program that will set you up for success to apply for any Business Credit Card that your heart desires.
In this program you will learn:
How to Formulate Your Business Properly to Maximize Business Credit Potential
Essential Services to List Your Company with Before Applying for Business Credit
The 7 Step Process to Secure Your Business Credit Foundation
The 3 Tiers of Trade Lines that Show Lenders You Mean Business!
Critical Steps to Optimize Your Business Credit Score
Top 10 Business Credit Cards that Reap MASSIVE Rewards and Elite Statuses
To get a full breakdown of the rewards offered with each of these credit cards visit: https://www.uscreditcardguide.com/small-business-credit-cards-en/